Here is my build plans. They are in no particular order. Pretty much they are going to be done when I can afford it, or if I can get something cheap, then it'll be done next.
Build Plans:
- Magna Head (M4) swap :
Done!
Swap Sigma Astron II head for a Magna head. Swap done with an M4 head.
-
Get a M4 head.
-
Remove the standard Sigma head, and replace with a Magna head.
- Change rockers to roller rockers :
Done!
Swap out the normal rockers from the M4 head, and replace them with roller rockers from a later head.
- Basic EFI Conversion :
Done!
TR/TS based conversion. Swap mechanical fuel pump for electric. Using stock ECU.
-
Pull apart the loom and rearrange it for a RWD car.
-
Extend the length of the loom.
-
Wire up a small fuse box.
-
Re-tape the loom ready to put into the car.
-
Wiring diagram.
-
Put in the roller rockers.
-
Modify the AC bracket to allow room for the TR/TS intake.
-
Mount the fuel pump.
-
Mount the ECU above the glove box.
-
Wire up the fuel pump.
--- Videos
-
First running test.
-
Running, but has an exhaust leak.
-
Starting, but then conking out.
-
First successful run test.
-
More testing.
-
Drive test. Auto still not working properly.
-
Another drive test. Auto now working properly.
-
0-80 test.
-
Testing the rev limiter on the ECU.
-
75-100 test.
-
The Sigma ticking over to 180,000kms
- Power Steering :
Done!
Replace the manual steering with power steering.
-
Clean the power steering components.
-
Install the pump and remove the manual steering components.
- Front Suspension/Brakes Upgrade :
In progress
Starion struts with lowered King Springs and RDA front and rear slotted rotors.
-
Research on disk pad sizes.
-
Buy a Starion for it's brakes.
-
Differences between the Sigma and Starion's front suspension setup.
-
Pull apart the Starion struts.
-
Clean and paint the strut/brakes components.
-
Sigma vs Starion strut tops.
-
New studs for the Starion hubs.
-
Clean out and re-grease the wheel bearings.
- Rear Suspension/Brakes and Differential :
In progress
Scorpion Differential with Starion rear brakes. Lowered King Springs.
- GSR spoiler and front lip :
In progress
Convert the car into a GSR copy.
-
Straighten a front spoiler.
-
Mount a rear spoiler to a non-GSR Sigma.
-
Change the GL badge to a GSR badge.
- Manual Conversion :
In progress
W58 to replace the Auto trans. (Originally planned for KM132)
-
Manual and Auto speed vs rpm graphs.
-
Replace the Auto pedals with a set of manual pedals.
-
Get a KM132.
-
Get a W58 5sp manual.
- Forced Induction :
In progress
Install a SC14. (Also considered a Disco Potato/GT2565RS or Eaton M90)
-
Get a SC14
- After Market EFI Conversion :
Pending
Megasquirt II or III ECU.
- TM/TN/TP Magna Elite LCD cluster mod :
Pending
Mod a Magna Elite LCD cluster to fit into the GN Sigma.
- Body Work :
Pending
Fix any rust and restore the exterior to stock looking.
- Rear Half Roll cage :
Pending
Half to keep it road legal-ish, and to keep it roll safe-ish. In SA, a rear half roll cage is road legal.
- 4 Point Racing Harness :
Pending
Racing Harness to accompany the roll cage.
- Front Seat Upgrade :
Delayed
Cordia seats using Sigma rails.
- The Car
-- 1987 Mitsubishi Sigma GN GL
-- 177,000 km on the clock
-- Garaged most of it's life so very little rust
-- Came with brand new 14" tyres
- Parts Used
-- Magna TP
--- M4 Astron head
-- Magna TR
--- Throttle Body
--- IAC (E9T15292C)
--- TPS
--- Intake Manifold (AW319683/AW320958)
--- Coolant Pressure and Temp Sensor
--- Engine bay loom (everything but the ECU plugs cut off at the fire wall)
--- Fuel Rail (9 280 065 008/AW319695)
--- 3.3 bar Fuel Regulator (0 280 160 519)
--- Fuel Injectors (Blue Top) (0 280 150 775)
--- ECU (9 260 060 021)
--- Control Relay (E8T07871)
--- Intake Pipes
--- Air Flow/Temperature Sensor (E5T05071)
--- Ignition Coil + Noise Filter
--- Oxygen Sensor
--- Roller Rockers
--- Cam Shaft
-- Commodore VL (Non Turbo)
--- External Fuel Pump (0 580 464 050)
-- Commodore VN
--- Coolant Pipe (Series 1)
-- Universal
--- 30 degree 3" pipe
--- Flexible 3" pipe
--- Bosch Belt 11A1015 (Crank > Water Pump > Alternator)
--- Bosch Belt 11A1055 (Crank > AC Compressor)
- Digital Dash Parts
-- Magna TN Elite
--- Digital Cluster
-- Magna TP Elite
--- Digital Cluster Loom
--- Speedo Pulse Generator
A couple years ago I had a GJ Sigma and planned to do an EFI conversion on it. Before I could do that, I ended up running it into gutter and bending the chassis. Fast forward a couple years and I have got another Sigma that I plan to do work on.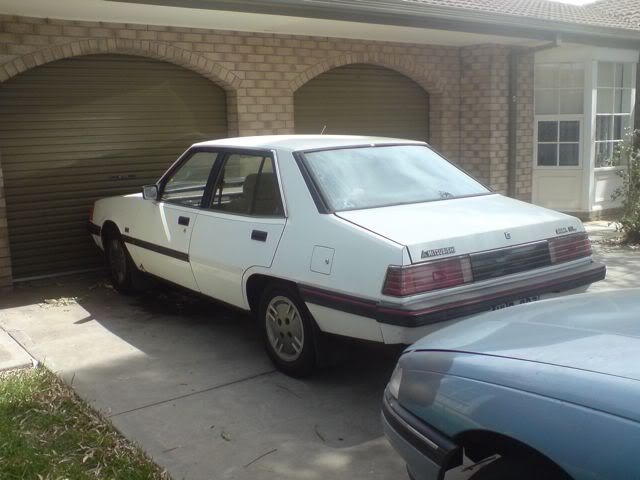 I saved this Sigma from being sent to the scrap metal recyclers. I got it for scrap value, which was around $150. It is a 1987 GN Sigma, 2.6L, Auto. It has done 177k kms. I would have rather got a Manual version, but couldn't pass it up for $150.
Pretty much all that was wrong with it was it needed a replacement water pump and radiator. I have a replacement water pump, but I am going to leave the radiator replacement till I check out if a Commodore VK radiator would be a suitable 'upgrade'.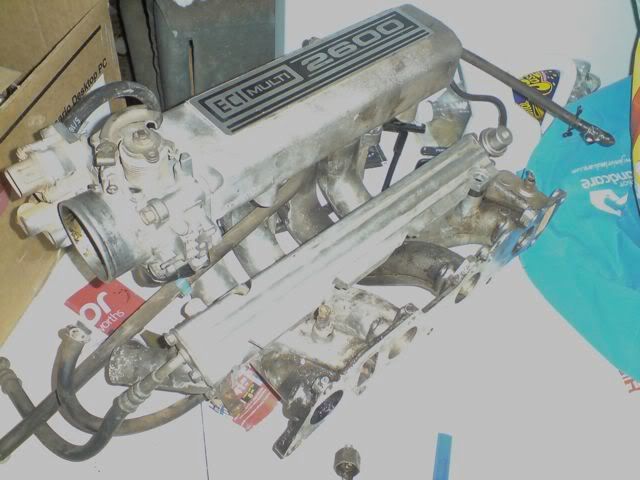 I went to U-Pull-It North the other day and picked up an almost complete TR EFI Intake for $39. I was thinking of trying to do something different with this build. I had the idea of putting in a Toyota 1JZGTE, Toyota 4AGZE, Mitsubishi 6G72, Mitsubishi 4G92, but I ended up just going with the 4G54 that I already had to save costs. In the spirit of doing something different, I decided to try and use an unmodified Magna intake.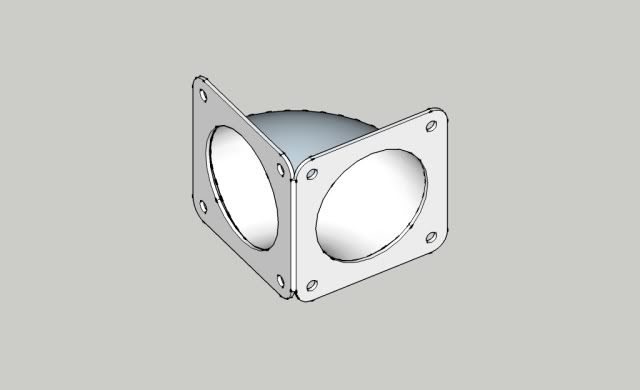 My first idea for using the unmodified intake was to use an adapter that pointed the throttle body away from the fire wall. The Commodore VN/VP has a similar problem. The L27 engine from the US is made for a FWD car, and the plenum and the throttle body point towards the firewall in a RWD orientation. I used this as inspiration for a design for my adapter. This first design would clear the firewall ok, but would make the throttle body point straight at the rocker cover.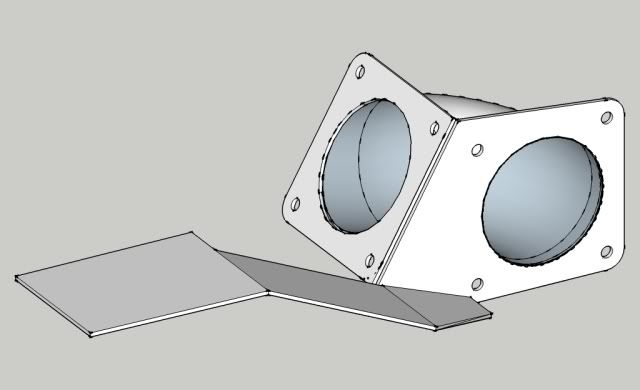 Second attempt at a design for an adapter was better. This time I tilted the throttle body at 30 degrees which would make it pass the engine easily. I also included a support that would bolt to the rocker cover as the air filter box on the carbie intake does. The throttle body cable could also mount to this support.
Hopefully tomorrow I'll be getting the carbie intake off the car, mounting the EFI intake, and making a quick prototype adapter. I will post pics when it is done.